Myasthenia: from the Greek words, myelos, meaning muscle, and astheneia, meaning weakness
Gravis: from the Latin word, gravidus, meaning heavy (serious)

Myasthenia gravis (MG) is an autoimmune disease that is characterized by impairment of motor nerve impulses causing episodic muscle weakness and fatigue, especially in the face, tongue, neck, and respiratory muscles. MG occurs at all ages, usually between the ages of 20 and 40, sometimes in association with a thymic tumor or thyrotoxicosis, as well as in rheumatoid arthritis and lupus erythematosus. It is most common in young women with HLA-DR3; if thymoma (tumor) is associated, older men are more commonly affected. Onset is usually insidious, but the disorder is sometimes unmasked by a coincidental infection that leads to exacerbation of symptoms. Exacerbations may also occur before the menstrual period and during or shortly after pregnancy.

Symptoms

Symptoms are due to a variable degree of neuromuscular transmission blockage caused by autoantibodies binding to acetylcholine receptors. These autoantibodies are found in most patients with the disease and have a primary role in reducing the number of functioning acetylcholine receptors. Additionally, cellular immune activity against the receptor is found. Clinically, this leads to weakness, and initially powerful movements fatigue readily. The external ocular muscles and certain other cranial muscles, including the masticatory, facial, and pharyngeal muscles, are especially likely to be affected, and the respiratory and limb muscles may also be involved. In the ocular variety, there is difficulty with movements of the lids and the eyeball itself. When the pharyngeal muscles are involved, difficulty in swallowing ensues.

Only voluntary (or striated) muscles are affected; involuntary heart muscle and smooth muscle of the gut, blood vessels, and uterus are not involved. Muscles of the limbs may also be affected in some MG patients. Asymmetrical weakness may occur, with one side of the body more affected than the other. Difficulty may be encountered with simple tasks such as combing one's hair, shaving, and putting on makeup. Climbing stairs or walking distances may cause the legs to easily tire. In 10% of the cases, people develop a weakness of the muscles needed for breathing, a condition known as myasthenia crisis. Hospitalization and mechanical breathing assistance may be necessary in such cases. The disease is painless but may become painful if the patient goes into spasm as a result of early fatigue. Skin sensation is preserved.

The effect of pregnancy on MG varies from patient to patient. Symptoms of the disease may disappear, worsen, or remain the same during the course of pregnancy. Obstetrical problems are usually not present because the smooth muscle of the uterus is unaffected by the disease. During second-stage labor, when voluntary striated abdominal muscles are used, weakness becomes noticeable. Pregnant women with MG may pass affected antibodies through the placenta to their unborn child. This results in temporary neonatal myasthenia, in which the infant has muscle weakness that disappears several days to a few weeks after birth.

Diagnosis

Doctors may suspect MG in anyone with generalized weakness that increases with the use of affected muscles and recovers with rest or in anyone presenting with weakness in the muscles of the eye and face. Since acetylcholine receptors are blocked in MG, drugs that increase the amount of acetylcholine--such as edrophonium--can be used as test drugs, administered intravenously, to see if muscle strength will temporarily improve. Blood testing for antibodies to acetylcholine as well as diagnostic measurement of nerve and muscle function may also be administered. In equivocal cases, electrophysiological studies testing nerve transmission and muscle reaction may be helpful. A computerized axial tomographic (CAT) scan of the chest may reveal an associated thymoma.

SHORT-TERM CONVENTIONAL TREATMENT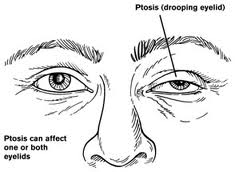 Short-term treatment for MG includes medications to counteract the symptoms of weakness and muscle fatigue. Anticholinesterases, such as neostigmine and pyridostigmine, which boost the levels of acetylcholine by blocking the enzyme which breaks acetylcholine down, can provide relief for a few hours. Some patients may show no response or even become weaker while taking the drug. Ephedrine sulfate may be used in conjunction with an anticholinesterase for added strength if patients are not bothered by possible side effects, such as nervousness and insomnia.

Plasmapheresis is an expensive short-term treatment in which several liters of blood are removed from the patient, centrifuged for removal of abnormal antibodies, and returned intravenously in artificial plasma. This treatment is considered when short-term improvement is crucial for the patient. However, the benefits of the procedure may last only weeks.

High-dose intravenous human immunoglobulin (IVIg) has emerged as a conventional therapy for various neurologic diseases. It may be considered the opposite of plasmapheresis. Rather than expunging the blood of abnormal antibodies, IVIg floods the body with pooled gamma globulin antibodies from several donors. Although expensive, IVIg has become a first-line or adjunctive therapy in the treatment of diverse autoimmune diseases, including MG. IVIg therapy has received Food and Drug Administration approval for use as a maintenance treatment of patients with primary humoral (blood-based) immunodeficiencies, and as therapy for acute or chronic autoimmune thrombocytopenic purpura. In controlled clinical trials, IVIg has been effective in treating chronic inflammatory demyelinating polyneuropathy. IVIg also has produced improvement in some patients with MG, but has had a variable or unsubstantiated benefit in others.

LONG-TERM CONVENTIONAL TREATMENT

Long-term treatment may include removal of the thymus gland. About 15% of patients with MG are found to have a tumor of the thymus gland, known as a thymoma. Most thymomas are benign. Thymectomy has become a common treatment modality for patients without thymoma. If most of the thymus is removed, symptoms usually lessen and, in some individuals, disappear completely. However, the thymus gland is the master gland of immunity, and removing this gland severely weakens the body's ability to fight infections and cancer.

Another long-term treatment approach is the use of immunosuppressive drugs. This group of drugs is used to suppress the body's immune system, although it is not known how they work in MG. Prednisone, azathioprine, cyclophosphamide, and cyclosporine are all immunosuppressive drugs. While patients may show significant improvement or drug-dependent remission of symptoms, they must be monitored closely for undesirable or serious side effects.

NATURAL THERAPY

Etiology
As previously mentioned, MG has been shown to be an autoimmune disease. This means that the immune system attacks some of its own body proteins. Specifically, the transmission of signals from the nerve endings to the muscle receptors is partly blocked by antibodies. The messenger chemical or neurotransmitter released as a signal from nerve endings to muscles is acetylcholine. Acetylcholine molecules travel the short distance in the gap between nerve ending and muscle to find a receptor on the motor end plate. When a sufficient number of acetylcholine molecules are attached to muscle receptors, there is an electric discharge of the normal membrane potential and the muscle fiber can contract.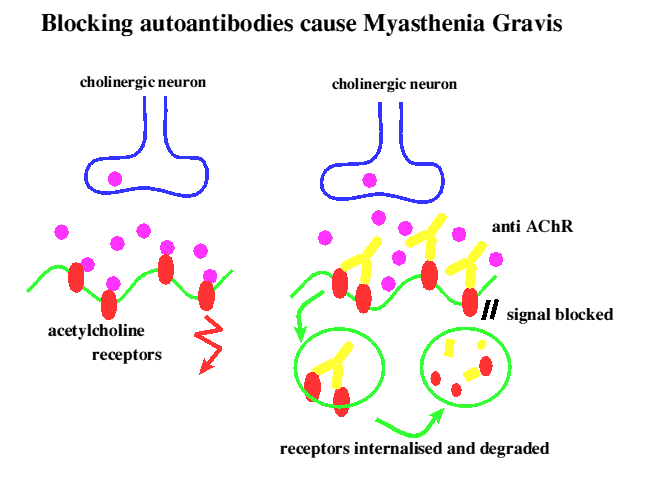 In MG most of the receptors are already occupied by antibodies; therefore, not enough acetylcholine molecules find receptors to trigger this discharge and subsequent muscle contraction. Normally, the acetylcholine is split by an enzyme (cholinesterase) and, with this, is removed from the receptor in a fraction of a second. Using anticholinesterases, drugs that hinder this enzyme, acetylcholine molecules have more time to find receptors with an increased chance of leading to a discharge. However, if too much of this enzyme antagonist is present, the cells remain discharged for too long and the muscles become paralyzed. This is a "cholinergic crisis" in which heart and breathing may stop.