Search Cidpusa web
Alzheimers IVIg
100 Million people will get Alzheimer's, you do not want to spend time in a nursing home get our E-book to prevent Alzheimers. Memory disorders are the most common symptom world wide. First book to provide reversal of all memory disorders. We have tried and reversed patients who had Alzheimer's.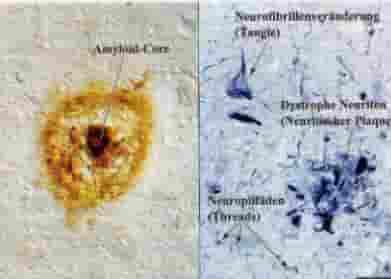 The changes in the brain with Alzheimers,Amyloid the yellow protein gets deposited in neurones and then they die and the neurone looks like Neurofibrillary tangles.
Alzheimers is caused by multiple factors and is not a single disease. However the disease that we commonly call Alzheimers is essentially autoimmune. By reducing inflammation the disease reverses. The following pages will show you how some drugs like IVIg help reverse the disease. If you are having memory problems simply drinking more water will improve memory. Alcohol in any form has detrimental effects on memory as a glass of beer will get rid of a million brain cells. Please read the curry link on the left to start protecting your brain from Alzheimer's. Omega-3 fatty acids also help Alzheimer's and so will the anti-inflammatory diet described on our diet page.
FRIDAY, April 22 (HealthDay News) -- Regular infusions of plasma derived antibodies appear to reduce levels of Alzheimer's disease-causing brain plaques while improving patients' thinking ability, researchers report.
Buildup of beta-amyloid protein plaques in the brain is a hallmark of Alzheimer's and toxicity related to this buildup is thought to be a major cause of the disease, for which there is currently no effective treatment.
In this phase I clinical study, conducted by a team from New York-Presbyterian Hospital/Weill Cornell Medical Center, researchers gave patients with mild to moderate Alzheimer's periodic infusions of a targeted antibody, called immunoglobulin (IVIg). The antibody makes its way to the brain where it targets beta-amyloid for removal.
The study included eight Alzheimer's patients treated with IVIg. After six months of treatment, seven of the patients underwent cognitive testing. The tests showed that cognitive function stopped declining in all seven patients and had actually improved in six of the seven patients.
"If these results are confirmed in larger, controlled trials, we might have a safe Alzheimer's treatment capable of clearing the amyloid protein away," senior researcher Dr. Marc E. Weksler said in a prepared statement.
The study was presented at the recent annual meeting of the American Academy of Neurology in Miami.
The researchers emphasize that it's too soon to describe IVIg as anything more than promising, and they do not recommend that doctors treat Alzheimer's patients with IVIg at this point in time. Preparations are already underway for a larger, controlled Phase II clinical trial of IVIg, the researchers said.
IVIg is an antibody product derived from human plasma. The U.S. Food and Drug Administration has long approved the use of IVIg to treat other conditions, but not Alzheimer's.
It has been well known that Alzheimer's causes beta amyloid deposits in the brain. Antibodies against beta amyloid can be measured in C.S.F. these antibodies are reduces in patients who go on to develop Alzheimer's. IVIg contains these antibodies so it is no miracle that it helps stop the disease in its track.
Please continue reading the article on page 2

😴
😃
😳