Information on Chemicals in Hospitals
alternatives treatment of autoimmune disease please read our
e-book
Babies 'exposed to cancer chemicals'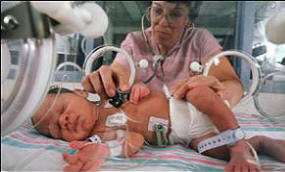 The chemical is found in many Hospitals are exposing patients, including babies and young children, to high levels of potentially dangerous chemicals, a report suggests. The babies are kept in a plastic environment with plastic fumes all around. Plastic tags are tightly placed on them and multiple plastic patches are attached to their skin.
A study by researchers in the UK and US has found that medical equipment, like tubes and blood bags, may contain high levels of phthalates - a chemical that has been linked to cancer and infertility.
In a report, published simultaneously in London and Washington DC, they warned that when used in combination these pieces of equipment could be delivering harmful doses of the chemical to patients.

From what we already know about phthalates, we should absolutely minimise the exposure of infants

Dr Vyvyan Howard, University of Liverpool Health Care Without Harm, the international lobby group behind the report, urged officials in the US and Europe to address the issue.
In 1999, the UK government banned chewable plastic baby toys, such as teething rings, because they contain phthalates.
Previous studies have shown that high levels of the chemical, which is used to make PVC flexible, can damage the liver, kidneys and testicles.
Safety limits
There are safety limits on the use of phthalates in PVC in place in many countries.
However, Health Care Without Harm said these limits were "a nonsense" because they are calculated on each phthalate separately.
They warned that combined use of tubes, IV bags and blood bags to treat patients could be putting them at risk.
They added that the risk could be particularly high for children.
Dr Vyvyan Howard, of the University of Liverpool, said: "From what we already know about phthalates, we should absolutely minimise the exposure of infants."
However, the chemical is also found in many everyday products such as paints, glues, cosmetics and other consumer items made from PVC.
Recent studies in the EU, Canada and US have concluded that children may already be exposed to high levels of phthalates.
This is because the chemical can be passed through breast milk and can be found in child care products, toys and infant formulae.
The chemical is released into the environment through the manufacturing process.
It can also be found indoors because it is emitted from some products made with PVC.
Government action
The lobby group accused government in Europe and North America of ignoring the problem.
Per Rosander, spokesperson for Health Care Without Harm, said: "The public are subjected to phthalates from a wide range of everyday sources.
"While regulators continue to ignore that fact, their so-called acceptable levels offer us no protection at all."
The Medical Devices Agency said it was aware of concerns. However, a spokeswoman said that at present there was no alternative products available.
She said: " Where products are used for medical purposes, it is essential that a balance is struck between their risks and benefits.
"There have been several recent expert assessments of the risks," she said.
"The medical device regulations require that any risks must be minimised and eliminated wherever feasible.
"However, at present, it is not always possible to provide alternative materials that provide the same level of clinical benefit."
But she added: "Each manufacturer is responsible for ensuring that the clinical benefits offered by a product outweigh any risk of toxicity.
"The Medical Devices Agency is keeping the issue under constant review."