Bis- Millah -Ar- Rehman Ar Rahiam
In the name of God, most merciful, most kind
Sir Allama Iqbal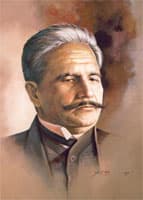 Written By Allama Iqbal is the secret for a successful life on Earth the verses read,
"Khudi ko kar buland itna, ki har taqdeer se pehle,
Khuda bande se khud pooche, Bataa teri raza kyA hai."..
Khudi means Self the poet tells us to raise your self to new heights So God asks the person himself how high do you want to rise. The self height is achieved by becoming humble and developing love for all and you will be on a journey to the heights. The lower you go to be Humble the higher you will go in success. You need to kill the EGO so you get closer to God. This is describe deen detail later in the page , what Iqbal wrote in one sentence takes a page to comprehend. To kill your Ego (Nafs) have no anger, hate , jealousy but Universal love.
Once Nafs is gonethen there is nothing but Allahs Love!
Lab pee aiti Haii Listen to awesome poetry
There is no doubt that there is a destiny. It has been written that what is going to happen in life. But it is not actually what it is written. It is that all the way you are given with choices, to choose . The destiny means that one be given the 2 choices and the choice you made is something one be punished/rewarded for.Possible side effects on his leadership?
So eventually, one thing is clear; that the choices are written. However, the difference that you can make is where you have to choose, which is the point where you can actually change your destiny. But whatever the choice you made is also written 😀 , not in hardcoded form. So, you have to pay, you have to work out something to change that form of choice into your desired choice. How would you ? Emm, that is the real question. Let me try to put my answer here.
Suppose, hypothetically, there is written in your destiny that you will reach a point which you may not want to. You have aimed and want to reach at point B. For this, you have to go through some preparations, some tests. Which are Praying for sure and working hard, struggling to get what you want and during all this time, God will continuously keep you testing. He will put different tests on your way, the tension, the restlessness and the mental trauma you may suffer during all this time. Now, if you are determined and strong enough to bear all this with all that solid hard work, then it means you did your job and you will be paid off with your reward, i.e. Point B 😀.
There is a saying that How would I know that the problems that I am facing is some sort of punishment 😟 or the tests, and the answer was given as, if those problems are bringing you closer to God, then those are tests, otherwise the punishment. Yeah, that is the thing in above case. If you do not lose your ground during your struggle to reach at your aim, you will get it. This is the thing, which Allama Iqbal said in his shair (the most favorite one of mine)
خودی کو کر بلند اتنا کھ ہر تقدیر سے پہلے
خدا بندے سے خود پوچھے بتا تیری رضاء کیا ہے
Khudi ko kar buland itna kay har taqdeer say pehlay
Khuda banday say khud puchay, bata teri raza kya hai
(The more humble one becomes, God himself would have to ask the human 'What is your opinion about this' .)Get rid of jealousy, hate, develop love get closer to God

Dr Aslam Farrukhi is an Urdu writer and critic

What are you reading these days?
Next to me, and which I give a lot of importance to, is Fawaidul Fawad by Khawaja Hasan Sajzi. It has been translated into Urdu many times and twice into English but I read it in Persian.

The book is a collection of the accounts of the conversations in Hazrat Nizamuddin Auliya's majalis penned by his mureed Hasan Sajzi who was also well-known as a Persian poet. Hasan Sazji would show these to Hazrat Nizamuddin Auliya so they are authenticated accounts.

Fawaidul Fawad contains everything, ilm, danish, din. There is no aspect of life which is not present in the book.

For about 30 years, every morning I read one chapter of the Quran and then one account of a majlis, and I always find some new meaning. By now, I know a big part of it by heart.

Another book next to me is Ghalib's Persian diwan. He was a very big poet in Persian. Also, Muhammad Husain Azad Aab-i-Hayat. I have spent a lot of my life reading and writing about him. I go through Aab-i-Hayat at least once a day. Through repeated reading, the book has become a part of me. I also sometimes go through its translation by Frances Pritchett and Shamsur Rahman Faruqi.



Khudi ko kar buland itna kay har taqdeer say pehlay
Khuda banday say khud puchay, bata teri raza kya hai
Mera Kam Hai Gharibo ke hamiat karna

Ay Tair-e-Lahoti us rizk say mot achi
Jis rizk say aati ho parwaz main kotahi

Sabak phir perh sadakat ka ,shujat ka diyanat ka
Liya jaye ga tugh se kaam duniya ki imamat ka Iqbaal bada updeshak hai.
Mun baaton se moh leta hai.

Guftaar ka ghaazi ban to gaya.
Kirdaar ka ghaazi ban na saka performance as president.

In certain ways I came out of it thinking he was a heroic character.
Yeh (Ghazi) Yeh tere Purisrar Banday - IQBAL
Ye Ghazi Ye tere pur israr bande
jinhen tune bakhsha hai zouq e khudai
Do neem jin ki thokar se sehra o darya
Simat kar Pahar jinki haibat se rai

Do Aalam sey karti hey begana dil ko
Aajab shey hey lazzat-e-Aashnai
Shahadat hey matloob-o-Maqsood-e-Mu'min
Na Mal-e-Ghanimat, Kishwar Kushai

- IQBAL "Yaqeen ka zarey nihad
La Ilaha illalah "if you believe then there is no God other then God himself"
"kabhi ae naujawan muslim
tadabbur bhi kia tu ne
wo kia gardoon tha tu jis ka hay ek toota hua tara "
Oh Muslim have you ever thought that you are a broken star of a Great Galaxy
QAOM MAZHEB SE HAIN MAZHEB JO NAHIN TUM BHI NAHIN
JAZB-E-BAHUM JO NAHIN MEHFFIL-E-ANJUM BHI NAHIN
Rules come from religion and if there is no religion
100