Backpack injuries
Children Avoid Backpack Injuries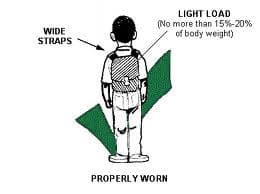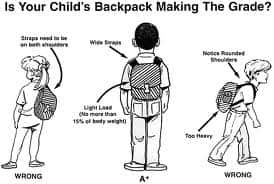 According to the U.S. Consumer Product Safety Commission, more than 7,000 children were injured last year due to overloaded backpacks, some weighing as much as 45 pounds. Experts recommend that backpacks weigh no more than 10 percent to 15 percent of a child's weight, but the average backpack weighs in at 20 percent.
"In fact, 10 percent to 19 percent of children miss school or sports activities every year because of pain caused by heavy backpacks," says Matthew Dobbs, M.D., orthopedic surgeon at Washington University School of Medicine and St. Louis Children's Hospital. "And 30 to 50 percent of adolescents complain of pain related to backpack use."
Treatment for backpack pain usually involves prescribing anti-inflammatory medicine for 10 days. Physical therapy is sometimes recommended. :"These types of injury are usually temporary, and pediatricians can reassure parents that the extra weight doesn't cause structural or long-term damage to the spine, nor does it cause scoliosis,"Dobbs says."But since backpacks are a fun and popular way for kids to express their own sense of style, it's important that physicians stress safety precautions to patients and their parents.

Backpack injuries,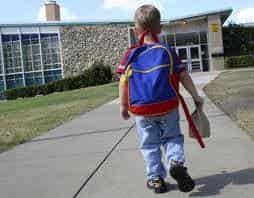 Dobbs says pediatricians can help their patients avoid injuries from using backpacks by stressing to them the following:
-Limit personal items.
-Don't carry the pack by hand or sling it over one shoulder. Use both straps over the shoulders to distribute the weight evenly.
-Wear backpacks over the strongest muscles, located in the midback.
-"Adolescent girls ages 11 to 16 are most at risk, which may be attributed to the rapid growth spurt they experience during this age range and the susceptibility of rapidly growing spines to back pain. In addition, girls often weigh less than boys, but still carry the same amount of backpack weight," Dobbs says. "Kids who walk to and from school are also more likely to suffer back pain from heavy packs because duration of use increases the risk of injury."
What is autoimmune
Toxic Baby products
Infants and women omega-3
Antibiotics
Continue to page 2 of Jinn in Quran

Quran page

Names of Allah.