CIDPUSA.org,
Girl battles back from rare syndrome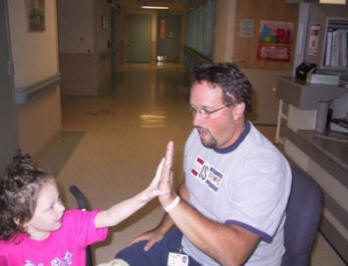 Thursday, July 14, 2005 By Janet Meana
The Grand Rapids Press
ALLENDALE TOWNSHIP -- It started with an odd walk. Makenna Kuncaitis, 4, was tripping over her feet and had sort of a silly duck waddle.
"It wasn't enough to alarm us. She could still jump and run," her dad said.
But it was enough for her parents, Ben and Amy Kuncaitis, to take note.
The next morning, Makenna complained her tummy hurt. A visit to the doctor ended up in a three-month hospital stay.
Within 48 hours of the first symptom, Makenna was nearly completely paralyzed.
Makenna had a spinal tap, a CAT scan, an MRI and blood work.
"Everything was coming back normal, but Kenna was getting worse by the hour," Amy said. Eventually, she couldn't move a finger or toe.
Her heart rate was going crazy -- 89 beats to 160 beats per minute in about two minutes. Her blood pressure was high, and she was losing the ability to swallow.
"The doctors were still baffled as to what it was," Amy said.
Sensitive to touch
The right side of Makenna's face became paralyzed, her speech was slurred and she was sweating profusely. A feeding tube was inserted that would stay in for 2 1/2 months.
"She was so sensitive to touch, we couldn't touch her," Amy said. "As a mom, I wanted to crawl in bed and hug her."
Makenna slept a lot, but when she was awake she would scream in pain.
"It was very frustrating. I spent a lot of the night walking halls with my ears plugged," her dad said.
At the end of the second day, a neurologist found the answer.
Makenna had Guillain-Barr, (Ghee-yan Bah-ray) syndrome.
"We had never heard of it," Amy said.
GBS is rare. Two to three adults of 100,000, and one in 800,000 children younger than 5, develop it.
Syndrome's cause not known
GBS is an inflammatory disorder of the peripheral nerves -- those outside the brain and spinal cord. It is characterized by the rapid onset of weakness and often paralysis of the legs, arms, breathing muscles and face.
The cause is not known. About 50 percent of cases occur shortly after a viral or bacterial infection, such as a sore throat or diarrhea.
The Kuncaitises believe Makenna's GBS was due to a virus.
Ben had been sick for several weeks with the flu, a couple of weeks before the onset of Makenna's symptoms.
Once the diagnosis was made, treatment was started.
Makenna was given intravenous infusion of immunoglobulins, or IVIg. IVIg is a solution of globulins -- simple proteins that provide immunity against disease -- containing antibodies normally in adult human blood.
Within three hours of receiving the treatment Makenna began to respond. "Over the next three weeks, we saw improvement every day," Amy said.
After three weeks at DeVos Children's Hospital, Makenna was transferred to Mary Free Bed Rehabilitation Hospital for two months. Makenna had six hours of therapy a day and wanted more. "She's such a fighter," Amy said. "Her spirit never went a way."
Still attending therapy
"She basically had to relearn everything," Ben said.
Makenna came home June 22 and continues to improve. She goes to therapy three times a week and uses a wheelchair only when tired. Her prognosis is a full recovery.
Makenna remembers not being able to move. "It felt prickly, I couldn't talk," she recalled.
Her sister Shyanne, 8, said it was creepy to come home from school and find out her sister was in the hospital. During rehabilitation, she occasionally spent the night with Makenna and helped her with stretches and pool therapy.
Makenna also has a brother, Ben, who's 2.
The family is thankful for friends, family and members of Resurrection Life Church in Grand Haven who helped them through the ordeal with prayers, meals, housework and emotional support.
Recently, on the spur of the moment, Amy entered her daughter into the Little Miss Allendale contest during the township's July 4 celebration. Makenna won the honor and got to ride on the pageant's float during the holiday parade with Miss Allendale Abby Hitchcock and members of her court.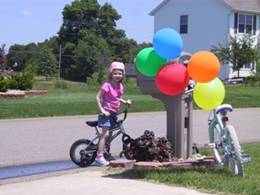 "It's so nice to have her be a normal little girl," Amy said.
I can't even put into words how this experience changed our lives in so many ways (most for the BETTER)! God is so good and His mercies are unending! Thank you Lord for taking us through this experience and showing us Your love! Thank you that YOU alone are our healer and Your ways are so much higher and better than ours. We will praise Your name forever!!
Search CIDPUSA WEBSITE