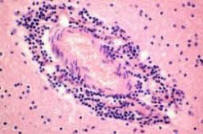 Autoimmune Disease are the number one disease process today! In the whole world.
Autoimmune disorders are ignited by the human body due to a unstable immune reaction against its personal tissues. The inflammation & damage of tissues by its own antibodies leads autoimmune disorder. Autoimmune disorder is mainly of two common types -- systemic autoimmune diseases and localized diseases.
In a few forms of autoimmune disease, a bacteria or virus generates an immune reaction, and the T-cells or antibodies produced against it target normal cells as they have some fraction of their configuration that bear a resemblance to a part of the arrangement of the contaminating microorganism. All cells carry a genetic marker, the cells of the left side have a different marker, so you may see Parkinsonism, ALS, MS, Fibromyalgia begin on one side of the body. This research study done by CIDPUSA. To open the highways towards a cure.
For GBS & CIDP pathology see
You can see above that pale shadows are the areas where Myelin has been lost and if you see the thick round rings below are the myelin sheaths. The thin rings are the places where myelin has been lost. This is the pathology in CIDP and GBS , polyneuropathy, diabetic neuropathy and in the brain in MS (Mutiple Sclerosis).

Pathology in a disease process is seen at cellular level. In nearly all autoimmune diseases one will see inflammation. The inflammatory cells will increase, tissue-infiltrating cells in autoimmune inflammation include multiple different cell types like lymphocytes, nonspecific phagocytes, granulocytes, fibroblasts, and others. Also, the attacked tissue responds to the injury with a series of events counteracting or amplifying tissue destruction. Generally what is seen in a slide is inflammatory cells with atrophic cells, some cells due to inflammation may enlarge in size.

Although in many cases the precise combination of pathogenetic mechanisms is not clear, there are three general types of mechanism which it is important to distinguish.
Direct antibody mediated attack
T cell mediated or cellular attack
Immune complex mediated attack
Direct antibody mediated pathology
We have already seen one example in Graves' disease where stimulatory antibodies dysregulate thyroid function. A counter effect can also be seen as in Myasthenia Gravis. In this disease, autoantibodies to the Acetylcholine receptor block neuromuscular transmission from cholinergic neurons by blocking the binding of acetylcholine and by causing downregulation (degradation) of its' receptor
T cell mediated damage
Self-destruction of tissue cells induced by cytokines, eg, TNFa
Recruitment and activation of macrophages (cells that eat bacteria) leading to bystander tissue destruction

Immune-complex mediated pathology

Immune-complexes are frequently implicated in autoimmune pathology. Systemic diseases such as SLE and vasculitis, CIDP, alzheimers almost certainly result from autoantibody-antigen complexes and their consequences. Certain organs are especially sensitive to immune complex deposition particularly the kidney
One has to act like a detective and sniff out the offender and if you do not want to go through the process you can read the flame within e-book . Go to the disease section
for information on each disease treatment and causes.
Not all the patients will have lab abnormalities. In many the EMG/NCV findings will not show that they have CIDP yet they will still have the disease.
Click to view different size nerve fibers.
Internet help email see our services page