Visual failure in Statin use
CIDPUSA.ORG
Statin in Visual failure
Study: Statins Can Cause Advanced Macular Disease
Friday, May 21, 2010 8:14 AM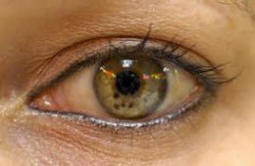 NEW YORK (Reuters Health) - Treatment with a cholesterol-lowering statin drug may very occasionally cause double-vision, eyelid-droop, or weakness of the muscles that control eye movement, investigators report.
Dr. F. Fraunfelder and Dr. Amanda B. Richards, from the Casey Eye Institute, Oregon Health Science University, Portland, investigated adverse events of this type documented in three large databases and report their findings in the medical journal Ophthalmology.
The team identified a total of 256 case reports of eye-muscle disorders associated with statins -- which include drugs such as Lipitor, Zocor, or Crestor.
The average dose of the statins was within the range recommended for each medication. The average time from starting on the statin to the occurrence of the eye problem was 8 months.
Among the 256 case reports, 62 patients stopped taking the statin and the double-vision or eyelid-droop resolved, Fraunfelder told Reuters Health. Sixteen case reports indicate that the statin was started again and the (problem) reoccurred, he said. This is positive re-challenge data and very compelling evidence that a real adverse drug reaction occurred with statins.
The side effect is rare, however. It's known that statins can sometimes cause inflammation of skeletal muscles (myositis) in the body, and the current side effect probably represents a localized myositis in the extraocular muscles, Fraunfelder noted.
in another study the researchers found that 481 patients developed advanced AMD; ( advanced Macular Disease) among them, 323 eyes developed neovascular AMD, and 233 developed CGA. Using multivariable analysis, statin use was statistically significantly associated with the development of advanced AMD (odds ratio [OR], 1.43; 95% confidence interval [CI], 1.12- 1.83), but in analyses for types of advanced AMD, use of the drug was only linked with the development of neovascular AMD (odds ratio, 1.76; 95% CI, 1.34 -2.30).
The researchers concluded that in AREDS, statin use was associated with patients developing advanced neurovascular AMD. However, previous studies have found an inconsistent association with cardiovascular risk factors, such as elevated cholesterol. Because statin use may be confounded by such conditions, no causal relationship should be drawn from this study's data. The study controlled for all AMD risk factors, including age, sex, education, smoking, body mass index, hypertension, and antioxidant and zinc use.
Frederick L. Ferris III, MD, clinical director of the National Eye Institute, pointed out, "We don't want patients to be concerned about the effects of statins on their eyes. [The drugs] have a beneficial effect on their life."
In an interview with Medscape Ophthalmology, John T. Thompson, MD, clinical associate professor at the University of Maryland, concurred: "The significance here is that there have been conflicting reports as to whether statins are protective, and this study says that they are not. There need to be further studies to sort this out."
The study did not receive commercial support. The authors and commentators have disclosed no relevant financial relationships.
Association for Research in Vision and Ophthalmology 2008 Annual Meeting: Abstract 3772. Presented April 30, 2008