Anise is a very widely used herb. It is especially known for its digestive properties. Anise seeds are consumed after meals to help in the process of digestion. If crushed and added to tea, not only does it enhance the flavor, but also works as a digestive and helps relieve the problem of flatulence.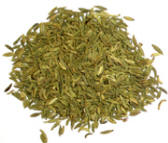 Anise, due to its antimicrobial properties, is found in a lot of over the counter remedies. The oil extracted from anise seeds is used as an expectorant. It relieves congestion by working on the secretary cells in the respiratory tract.
Though anise can be used to treat a wide range of medical conditions, a word of caution is in order. It is recommended that people with high blood pressure should not consume anise as it might exacerbate the condition, though there is no concrete scientific evidence for this.
Anise is also a popular culinary herb that is used extensively in cooking and liqueurs. Also, due to its fresh scent, it is often used as a herbal fragrance in aroma therapy. Moreover, anise is added to oral hygiene products like toothpaste and mouthwash in order to enhance their flavor and effectiveness.
Back in the ancient times, the Romans used anise to make scented oils and soaps. Perhaps the tradition of wedding cakes can be traced back to the Roman period when anise tea and cake were served after a wedding feast.
Anise seed as well its oil have found application in many traditional medicines for their distinctive health promoting and disease preventing roles.
The seeds preparations are an excellent remedy for asthma, bronchitic cough as well as digestive disorders such as flatulence, bloating, colicky stomach pain, nausea and indigestion.
The essential oil comprises 75 - 90% anethole, which has an observed oestrogenic effect. Its decoction oftentimes prescribed to promote breast-milk production in mothers.
Anise seed water is very helpful in relieving running nose in infants.
The seeds are chewed after a meal in India to refresh the breath
Please see detailed information on Fennel