Myositis is the medical term for muscle inflammation. In myositis, inflammation damages the fibers of a muscle. This causes muscles to be weak by interfering with the ability of the muscles to contract. Although myositis can cause muscle aches and muscle tenderness, weakness is usually the dominant symptom.
In some cases, myositis is a short-term problem that goes away after a fewIn some cases, myositis is a short-term problem that goes away after a few days or weeks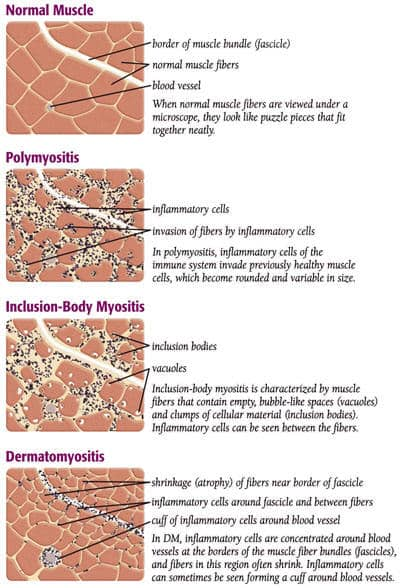 . In other cases, it is part of a chronic (long-term) condition. Chronic forms of myositis can lead to muscle atrophy (wasting and shrinking) and severe disability.
There are many different types of myositis, including:
Idiopathic inflammatory myopathies. In this rare group of muscle diseases, the cause of the muscle inflammation is unknown (idiopathic). There are three major types: dermatomyositis, polymyositis and inclusion body myositis.

In the United States, idiopathic inflammatory myopathies affect about 1 out of every 100,000 people. Polymyositis and dermatomyositis are most common in women, whereas inclusion body myositis affects men more often. Symptoms can start at any age, but the average age of first symptoms is a bit younger in dermatomyositis and polymyositis (age 50) than in inclusion body myositis (age 60).

So far, most of the evidence suggests that polymyositis and dermatomyositis are autoimmune disorders, illnesses in which the immune system mistakenly attacks the body's own tissues. The muscles of people with inclusion body myositis contain an abnormal protein called amyloid, but the reason it forms is unknown. This amyloid protein is similar to the protein deposited in the brains of people with Alzheimer's disease, and some experts believe that the two diseases may develop the same way. In inclusion body myositis, the muscle also contains tiny structures that resemble viral particles (called inclusion bodies), although no viral infection has been consistently identified in association with this disease.


In dermatomyositis, cancer is found in approximately 10% to 20% of cases. Sometimes, the muscle problem develops first. In other cases, the cancer is detected before the myositis.

Myositis quite similar to polymyositis or dermatomyositis may accompany other autoimmune disease such as systemic lupus erythematosus (SLE) or progressive systemic sclerosis (also called scleroderma ).
Infectious myositis. Myositis sometimes occurs as part of a systemic (whole body) infection, especially a viral infection. It is especially common in people who have the flu (influenza). Myositis also can be caused by trichinosis, an infection in which tiny parasites invade the muscles. People can develop this infection by eating meat that has not been cooked enough. One type of infectious myositis is called pyomyositis, a bacterial infection that causes one or more pockets of pus (abscesses) inside a muscle. It usually is caused by Staphylococcus ("staph") bacteria. Pyomyositis is a relatively common infection in developing countries in tropical climates, especially where sanitation and health care are poor. However, it sometimes occurs in the United States, primarily in people who inject illegal drugs and in people infected with HIV.
Benign acute myositis. In benign acute myositis, a young child suddenly develops severe leg pain and cannot walk normally. These symptoms are dramatic and frightening, but they usually disappear within a few days. Benign acute myositis usually occurs in children who are recovering from the flu or some other respiratory infection caused by a virus. Doctors are not sure whether the child's muscle symptoms are caused by the virus itself or by the body's immune reaction to the virus.
Myositis ossificans. In myositis ossificans, a lump of bony material forms inside a muscle. This usually happens after a muscle injury, especially a deep bruise.
Drug-induced myositis. In drug-induced myositis, muscle inflammation occurs as a side effect of a medication or a combination of medicines. Although this is rare, the most common medications that can cause myositis are the cholesterol-lowering drugs called statins, including atorvastatin (Lipitor), lovastatin (Mevacor) and simvastatin (Zocor) and zidovudine (Retrovir), also called AZT, a drug used to treat HIV/AIDS.
Is there any treatment continued to next page?