please read our e-book for permanent help.
Today all forms of arthritis & pain are treatable, they are all caused by autoimmune process. Learn to turn off inflammation at the source.
WEAKNESS; Myopathy, Anterior horn cell disease, Neuropathies, Neuromuscular transmission disease
Special Google Health Search
Nerve histology
The nerve is equally unimaginative in its reaction to damage. In principle, only two pathological changes are seen. Firstly axonal damage results in Wallerian degeneration, a bead-like disruption of the peripheral nerve that involves both the axon cylinder and the surrounding myelin (Figure 8). This is seen in diseases affecting the axons in the peripheral nerve, or in anterior horn cell disease.
Figure 8 Wallerian degeneration seen in axonal damage

Secondly demyelination results in peripheral nerves with shortened internodes or internodes with thinner myelin (figure 9). Remember the axon cylinder in demyelinating diseases is fine and healthy.
Figure 9 A nerve fiber with shortened internodes that are hypomyelinated; typical findings in demyelinating neuropathies.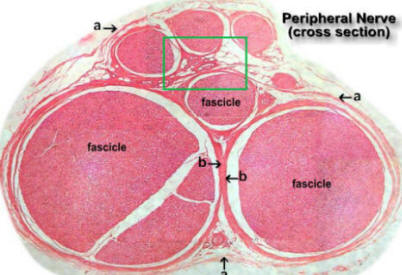 The cross section of a normal Sural nerve
Please continue to information on EMG/NCV next page