Guide toinflammation.
Low fat Plant diet lowers cholestrol more
08:04 AEST Tue May 3 2005 AAP A low-fat diet rich in vegetables, fruits, whole grains and beans has twice the cholesterol. lowering power of a conventional low-fat diet - even when the two diets have the same amount of calories and fat.
Writing in the Annals of Internal Medicine, researchers say the study suggests that low-fat diets may often fail to lower cholesterol because they contain the wrong nutrients.
Christopher Gardner of Stanford University, who led the study, says of the volunteers, 61 ate a conventional low-fat diet, including frozen waffles, turkey bologna sandwiches, frozen pizza and similar foods.
The other 59 ate a plant-based diet including whole-grain cereals, dark lettuces, bean burritos and vegetable soups.
Both diets contained identical amounts of total and saturated fat, protein, carbohydrate and cholesterol and calories were carefully controlled to keep each volunteers' weight constant.
After a month of eating it was found that both groups had lower cholesterol, but the conventional diet lowered LDL cholesterol by, on average, 4.6 per cent, while the plant-based diet lowered LDL by more than twice as much, or 9.4 per cent.
Botox Death
By GARDINER HARRIS Published: January 25, 2008 WASHINGTON - Botox and a similar injected drug have been associated with 16 deaths, four of them in children, and scores of serious injuries that occurred after the drug spread to vital organs, a health advocacy group says.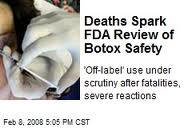 The drug, a neurotoxin that is used to relax muscles, should come with a far stronger warning label and patients should be given a letter detailing its risks, the group, Public Citizen, said in a petition filed Thursday with the Food and Drug Administration.
Julie Zawisza, a spokeswoman for the agency, said she could not comment while the petition was under review.
Executives at Allergan, the maker of Botox, issued a statement saying that adverse reactions were rare. And because many patients who get the drug are seriously ill, the company said, it is not proved that Botox caused the reactions. Solstice Neurosciences, the maker of a similar drug, Myobloc, did not return a message for comment.
Perhaps best known as a wrinkle remover, Botox is also approved to treat cervical dystonia, a painful knotting of neck muscles. Doctors inject it into multiple spots on the neck, relieving sometimes disabling pain for weeks or months.
But the injection sites sometimes come perilously close to the esophagus, causing partial paralysis that can lead patients to have difficulty swallowing and suffer aspiration pneumonia, caused by breathing in food or liquids, Public Citizen said.
Of the 16 people who died, only one is known to have been undergoing a cosmetic treatment for wrinkles. Most of the others suffered muscle problems or their condition was unknown.
The deaths might have been prevented had patients been adequately warned of the possible dangers, said Dr. Sidney M. Wolfe, director of Public Citizen's health research group. The labels for Botox and Myobloc mention the issue but not prominently enough, Dr. Wolfe said.
"Nobody should die from the medical use of Botox," Dr. Wolfe said. "The fact that they are shows that patients don't have a clue about these problems."
Health authorities in Europe have done a far better job of highlighting the drugs' dangers, Dr. Wolfe said. The authorities in Britain and Germany have required drug manufacturers to send letters to doctors warning of the dangers.
On Aug. 9, the Danish Medicines Agency published an analysis of adverse events associated with the products. The analysis found 600 problems associated with the drugs, the petition stated. Half of the serious problems associated with the drugs occurred after the toxin spread, the petition said.
The drugs' labels in Europe have a prominent section titled "special warnings and precautions for use"that warns of the dangers of the spread of the toxin. The Danish authorities also warned that muscle weakness associated with Botox may be long-lasting, especially among children, the elderly and those suffering serious neurological problems.
Patients in Europe also receive a leaflet warning them to seek medical help if they have trouble breathing, experience dry mouth or have trouble swallowing.
The drugs' manufacturers and others have reported to the F.D.A. 658 cases of problems associated with Botox and Myobloc, Public Citizen said.
65